It's November and you know what that means? It's about to get pretty darn cold. While coats, scarves, and thermal undies can help you cope, nothing warms you up like a hearty meal.
That's why we've come up with a list of comfort food recipes for the hungry man to get you through November. From protein-packed turkey chili to stuffed bell peppers, check out this mouthwatering list (and then get cooking ASAP!).
Hearty, healthy, and packed with protein, this unbelievable Slow Cooker Turkey Chili is what you're going to want to eat every football Sunday from now on. Made with fresh tomatoes, two kinds of beans, jalapeno peppers for an added kick, and of course, lots of lean ground turkey, this tasty meal is sure to become a staple in your household. Pop your ingredients in the slow cooker for 4-6 hours, top with sour cream before serving, and voila, a delicious chili for you and your friends.
Pulled Pork Stuffed Sweet Potato
Singlehandedly taking the classic baked potato up a notch, this pulled pork stuffed sweet potato is the definition of manly food. And considering the entire recipe only contains 6 ingredients, it's safe to say that anyone can make it – even if you rarely cook. The first step is preparing your pulled pork. You'll need the pork loin, chili powder, garlic salt, cola, and barbecue sauce. Once your pork has been smothered in your sweet and savoury rub, all you have to do is cook it and place your sweet potatoes in the oven to bake. Top the cooked sweet potato with the tender pulled pork and enjoy!
Three words: braised chianti beef. Has anything ever sounded so mouthwatering? This stew is a major upgrade on your traditional beef stew, featuring chuck steak, diced pancetta, and an entire bottle of Chianti. Mix in a melange of vitamin-packed veggies, including carrots, onions, mushrooms, and potatoes, and you've got yourself one rich stew. Roast in a slow cooker for extra ease or cook on the stove for a quicker option.
Chipotle Chicken Enchilada Bake
The Tex-Mex food of your dreams, this enchilada bake is one of the most satisfying meals to eat after a long, cold commute home. Featuring green chilies, fresh corn, black beans, Monterey Jack cheese, corn tortillas, and two juicy chicken breasts, you'll instantly fall in love with this scrumptious dish. Made in a skillet, all you have to do is combine your ingredients, let them cook for 20 minutes on the stove, and then place your entire pan in the oven for 20-30 minutes until the cheese starts to bubble. Simply delicious!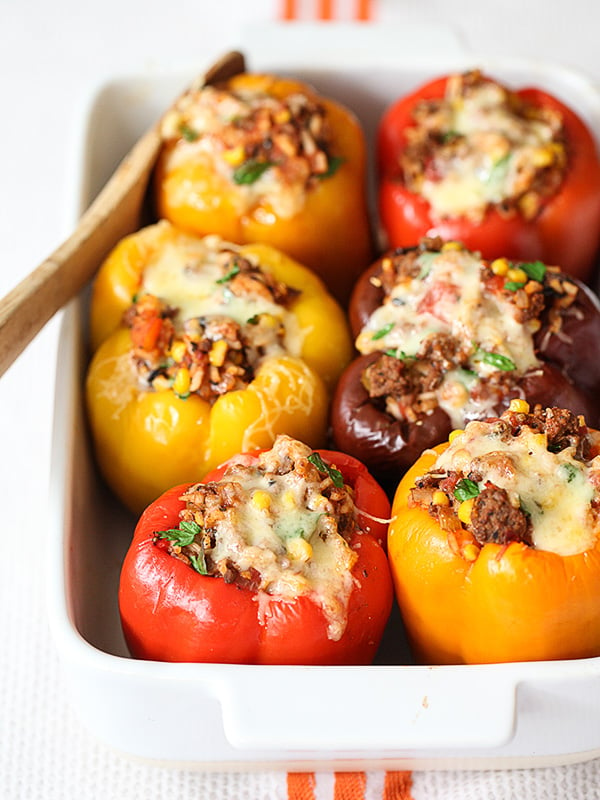 These beef, rice, and veggie-stuffed bell peppers not only look good, they taste good too. A more inspired way of getting all your essential nutrients in one meal, these bell peppers are filled with lean ground beef, wild rice, mushrooms, corn, celery, garlic, onions, tomatoes, shredded cheese, and tons of yummy herbs like oregano, basil, and parsley. Choose your favourite type of bell pepper, get sautéing, and then pop them in the oven for just 20 minutes. Hint: remove the beef for a dish that no vegetarian can resist.