Stand out amongst your coworkers by bringing the ultimate dish to your Christmas potluck. We know you're going to look good (undies and all), but you also want the people you work with to be impressed by your cooking skills, right?
Rather than bringing the same old meal year after year, liven things up with something tasty and festive that the whole office will enjoy.
Check out 5 dishes to bring to your holiday office potluck in 2016.
If you're asked to bring a drink…Citrus-Cinnamon Punch
Add a little cinnamon to this tangy beverage, and you've got yourself the ultimate holiday punch. Made by combining an orange reduction (trust me, it's easier than it sounds) with a blend of orange juice, grapefruit juice, soda, and grenadine syrup, your coworkers are sure to love this sweet treat. Oh, and if alcohol is allowed, we recommend adding a splash of Grand Marnier or Cognac.
If you're asked to bring dessert…Maple-Spice Cashew Brittle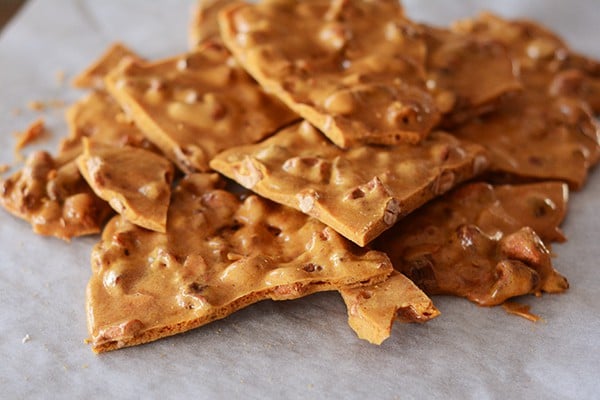 Who doesn't love a good brittle? Tasty and easily transportable, this is a no-hassle dessert, making it ideal for an office potluck. Even better? This brittle is made in the microwave. All you have to do is microwave sugar and corn syrup, add in the nuts, spices, and butter, microwave for a few more minutes, and then poor out on a baking sheet lined with parchment paper and let it set in the fridge.
If you're asked to bring a main…Flatbread with Chorizo, Apples, and Manchego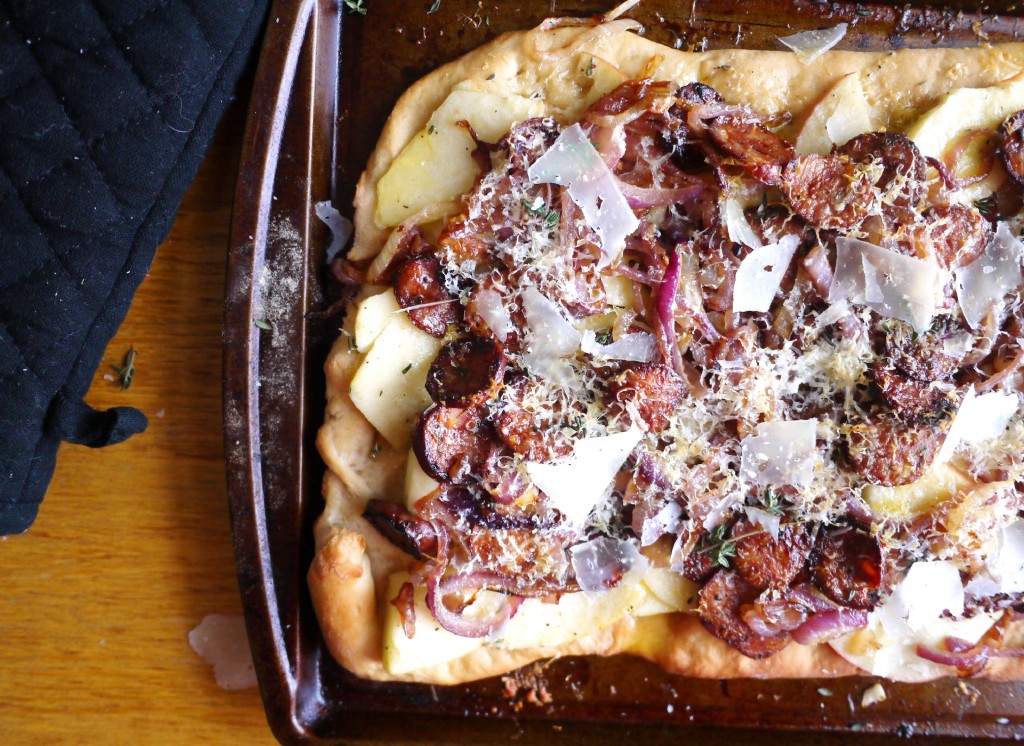 A simple but filling main course for a holiday party, this whole wheat flatbread with chorizo, apples, and manchego cheese is delicious cold or warm. Make in advance by rolling out your pizza dough, brushing with olive oil, and covering with diced chorizo, shredded cheese, and braised apples. Pop it in the oven for roughly 30 minutes and voila!
If you're asked to bring an appetizer…Bacon-Wrapped Dates with Goat Cheese
A major crowd pleaser, this sweet and savoury appetizer is to die for. To create these little bites of heaven, you'll need just three ingredients: pitted dates, goat cheese, and bacon. Start by cutting open the date and stuffing it with goat cheese, then wrap a piece of raw bacon around each date, and finally pop 'em in the oven and you'll have a delicious appetizer 15 minutes later.
If you're asked to bring a side…Sauteed Green Beans with Mushrooms and Caramelized Onions
Say goodbye to boring old roasted potatoes, and hello to this scrumptious green beans side dish. So much more than cooked beans, this flavourful accompaniment is comprised of green beans, cipollini onions, button mushrooms, and a few surprise ingredients like thyme and soy sauce. Taking almost no time to prepare, your coworkers will be asking you for the recipe all night long.